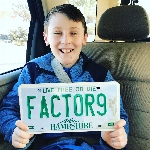 Implied Networks is again proud to be walking with Tuck's Team in the annual Unite for Bleeding Disorders Walk at Prowse Farm in Canton, Ma. This is  a fundraising event to support the New England Hemophilia Association. Inherited bleeding disorders are a life-long condition. Currently there is no cure, but scientists are actively engaged in finding cures and improving treatments.
Tucker is 10 years old and finishing the 4th grade this year. With support from NEHA his family is able to make sure he enjoys life as a normal kid. You can see his full story on the Team page.
That's why we continue raising money for this event and we hope that we can count on your continued support! Thousands of families in our community, and across the country will benefit from your support and the success of the Walk.
In 2018 the New England walk had 1600 participants that raised a total of $339,000. Thanks to all of you for your past support.
We are asking for your help again to reach our goal this year. Will you make a tax-deductible contribution by donating what you can? It's fast and easy to make a donation, so please do it now.
Tuck's Team is also doing a fundraiser day at Uno's in Concord. If you are hungry on May 14th, stop into Uno's on Fort Eddy Rd, just mention you are there for the New England Hemophilia fundraiser and they will donate 20% of your bill
Thank you in advance for your support and together, we will make a difference.